[5 Days Only!] Do THIS legal step if you have limited funds
The other day I was being interviewed as a legal guest expert on a bonus call for a #rockstar coach (oooh! I love doing bonus calls and podcasts – it's totally my jam – I do 2-3 every week!)
The #rockstar coach asked me to help her tribe know what legal steps to take and in what order, as their business grows. When we opened the line for live Q&A, a gal shared that she was just starting her coaching practice.
She asked: "If I have limited funds, what is most important for me to do FIRST to legally protect myself?"
Such a great question. Since each situation is slightly different based on how long you have been in business, your unique background and goals for the future, I needed to get a little more info.

"Do you have a website?"
She said "yes". (By the way, you don't HAVE to have a website to start coaching. When I first started the Legal Coaching side of my practice back in 2012, I didn't have a Legal Coaching website for 9 months – can you believe it? I just had my Health Coaching website at the time…and my legal business took off completely by word of mouth.)

Back to the coach. She said "yes". Since she had a website, there's a key document that you'll want to have in place to give you a base layer of legal protection on your site – no matter what kind of business you have. I told her:

"If you have a website, your Website Disclaimer is your first legal step."
She replied, "Why a Website Disclaimer?" Your website is the face of your business to the world and showcases your brand, your credibility and your personality.

The last thing you want is someone just browsing your site, checking things out, reading a blog post or two and then getting confused about who you are or what you do.

For example:
If you're a Health Coach, you don't want them thinking you are a medical doctor.

If you're a Business Coach, you don't want them to think you're their financial advisor.

If you're a Spiritual Healer, you don't want them to think you're giving psychological advice.
See what I mean?
You want your website visitors to know that you're just providing education and information through your site, that they can't just take what they read and apply it to their lives willy-nilly, and that they can't rely on what you say and, if something goes wrong, come after you.

Nope!
If you have a website, your first legal step is to have a really strong and thorough Website Disclaimer that creates CLARITY about what you do (and don't do) in your business to limit your liability.
Clarity is key to keeping you safe and protected as a business owner.
If you weren't able to join Gena and me for our Damsel goes bare™ course because you have limited funds yourself, we want to help you get the very FIRST LEGAL STEP you need to have in place as our way of saying THANKS for all of your support through our launch over the past few weeks.
That's why for the next 5 days ONLY you can receive a Website Disclaimer template plus video lesson for $197 (or 2 payments of $107) – it's typically $397. It's our gift to you.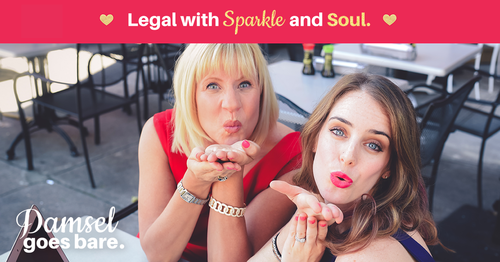 Here's to taking your first legal step with a Website Disclaimer!