How to share your message (without wanting to throw up)
I'm not going to lie: I was a nervous wreck when I first stepped out on my own and starting sharing my unique message that the law can be filled with love.
I felt I needed permission to:
Call myself part lawyer, part coach and part spiritual soul sister.

Charge for my services and receive payment for my work in my own business without being backed by a big law firm or organization.

Speak my truth and talk about the law, chakras, and energy in a way that is not typical for a lawyer.

Do what my heart wanted me to do—and to stop doing what I was "supposed" to be doing by working for big, established institutions.
Using your voice and speaking your truth about your unique message or how you see the world can feel foreign if you're not used to doing it.
In fact, it may make you want to throw up.
You may worry that people will:

Not like you

Not understand you or your ideas

Harm your reputation on social media

Question your credentials and experience

Claim you are a fraud or that you're doing something wrong

Belittle you, ridicule you, and exclude you somehow

Come after you to hurt you or your property
Gulp. That's a lot to be afraid of.

I have feared most of the things on this list myself at times. Perhaps you have too.

I know first-hand that it can feel scary to stand up and say, "This is what I believe," and declare your values, truths, philosophy, knowledge, experience, expertise, and identity. Very scary.
If you are like me, you may want tips about how to share your message authentically and reveal more about yourself and your biz – without the sweaty palms and feeling like you're going to throw up whenever you do a Facebook Live or post anything on Instagram or your website.

That's why I'm so excited to talk with Laura Belgray, top-notch copywriter and Co-Creator of The Copy Cure, on Monday, November 27 at 4 pm ET.  
Laura will share how to communicate your message in a way that gets you the RIGHT kind of attention – and NOT the kind that makes you want to throw up.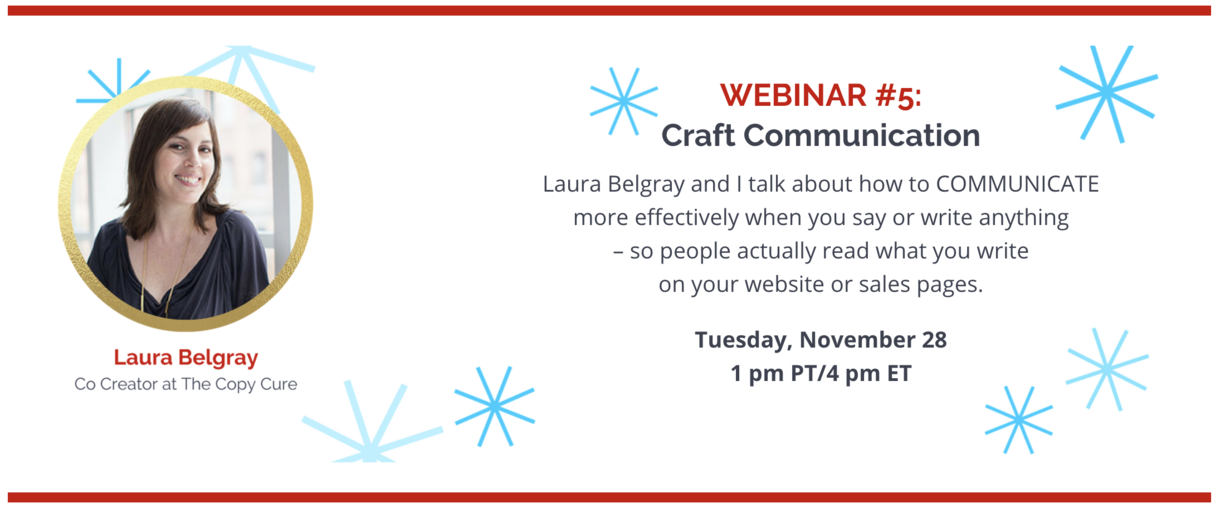 If you don't know Laura Belgray, she is founder of Talking Shrimp and co-creator of The Copy Cure (with Marie Forleo!) and a copywriting expert who helps entrepreneurs find the perfect words to express and sell what they do. Through her work with hundreds of clients (including online biggies like Mastin Kipp,  Amy Porterfield and my Mastermind sister Kate Northrup) she's seen firsthand that putting "you" into your copy is pure magic for getting people to love you up, share your ideas, and happily click your "Buy" button.
In addition to online types, Laura's list of clients and credits include NBC, Bravo, HBO, TBS, Fandango, and many, many more. So if you watch TV — and don't skip the commercials — you just might see her words on air. (She's AMAZING!)
Laura's also been my very own copywriter who has helped me with my website, "go bare now" legal course sales page and my book "Easy Legal Steps (That Are Also Good for Your Soul)", AND I attended her LIVE workshop in Cinqueterre, Italy last summer where we learned how to write better copy while immersed in a land of ancient vineyards, homemade pasta and endless bowls of gelato. Here's a pic of Laura and me from the trip: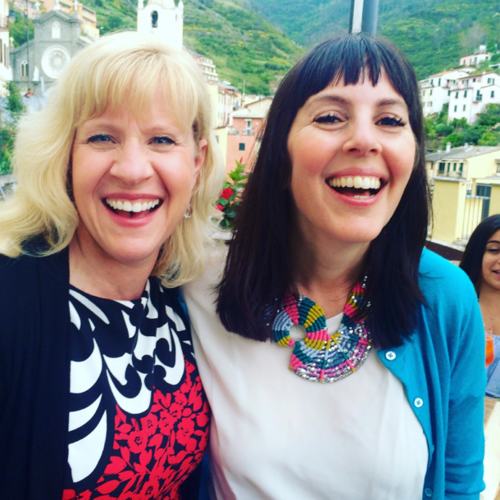 This is webinar #5 in the Grow With Grace Webinar series – my gift to you to help you build a soulful business with love.
I am loving going beyond the legal side of biz and talking with so many wonderful guest experts like Laura about how to grow your biz with grace in a heartfelt and soulful way! See you there!