How to write copy that makes you a money magnet
It can feel a little exciting – and a little unnerving – to publish your sales page for your upcoming launch.

You might wonder if anyone is going to take you seriously, or think you know what you're even talking about.

You might wonder if people are reading your sales page and thinking, "Wow, her writing is crap".

You might wonder if anyone is even going to see your sales page at all.
Yet, as you take a deep breath and press "publish", you hope that you'll begin to reach more people, your launch will be amazing, your sales will come in, and you'll receive more income.

Right?
But, how do you write in a way that makes you a money magnet?
How do you  communicate so people will read your entire offer, instead of just the first line? How do you get them to click the "Buy now" button? How do you actually write good copy?
Join me TODAY at 1pm PT / 4pm ET in this week's free Grow with Grace webinar training as I ask the best copywriter I know, Laura Belgray, how to write in a way that simply attracts money.
If you don't know her, Laura's freaking AMAZING.
She's worked with hundreds of clients (including online biggies like Marie Forleo, Mastin Kipp, Amy Porterfield and my Mastermind sister Kate Northrup).

She's also written for TV shows like "Suits", "Psych", "The Steve Harvey Show", "The Real Housewives of Beverly Hills", "Conan" and done ads for Tylenol Cold, Kohl's, and Fandango.

And's she's the co-creator of The Copy Cure with Marie Forleo.

She's the Queen of writing "non-sucky" copy (as she says).
Laura's also been my go-to copywriter for website, my "get legally covered so you can go bare" sales page and more.

I even packed my bags and traveled to the tiny town of Riomaggiore in Cinqueterre, Italy last summer to attend her live workshop in an ancient castle (no less!) where she taught me how to write good copy for my book. Here we are with the gorgeous Italian hills and vineyards in the background: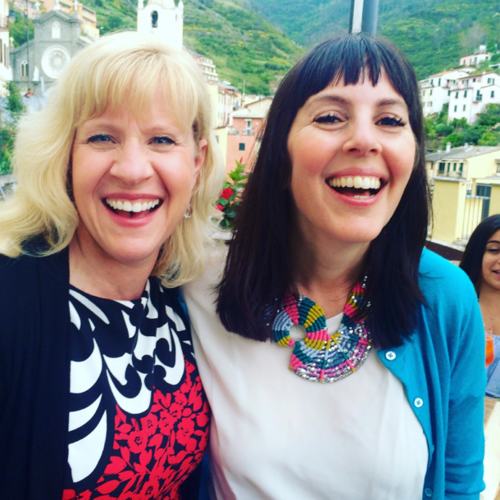 In today's webinar, Laura Belgray is going to teach you how to craft communication so that people actually read what you write and happily press your "Buy now" button.
She's going to help you find the perfect words to express and sell what you do so you can feel bigger, bolder and braver when you write ANYTHING.

I promise, this is one you don't want to miss!
I look forward to seeing you *live* on the webinar!