When I became a new health coach back in 2012, I felt ready to take on the world.
I felt SO GOOD that I wanted EVERYONE to eat more dark leafy greens, switch to gluten-free, and drink hot water with lemon every morning to cleanse their liver.
I knew that my small steps had a big impact, it felt so empowering.
But, what about the business part of being a health coach?
I learned a bit about the biz parts in health coaching school, but they didn't teach us anything about the legal protections to take.
(That's exactly why I actually became a Legal Coach®. So many of my health coach friends knew I was a lawyer and kept asking me what legal steps to take to protect themselves.)
A lot of my health coach clients come to me because they are scared to:
Share the green juice recipe they love on their blog and the benefits of the kale in the juice and have someone read it the wrong way and come after them saying they are making a medical claim….(it's happened!)
Have an amazing client who shows up fully for the deep work in their 1:1 program all of a sudden not pay on time – or asks them for a refund 5 sessions into the program.
Spend HOURS writing website copy or program materials and someone comes along and swipes their hard work and uses it on THEIR site. So frustrating!
Using legal documents helps you totally relax so you don't have to worry someone is going to come after you, not pay you, or swipe your stuff.
They help you have the right legal language to fall back on and shore up your boundaries so you can focus on what you truly love – coaching and helping your clients transform their lives, step by step.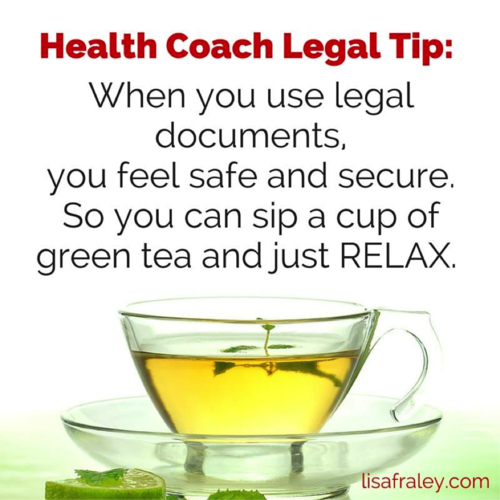 As a health coach, there are 2 key legal documents that protect you so you feel secure and empowered right from the start:
1. Website Disclaimer
Getting your Website Disclaimer up on your website is the very first step.
A Website Disclaimer is your base layer of legal protection. It disclaims your liability and tells people what you do as a health coach, so they don't get confused and think you are giving medical advice (when you're really just providing health tips and info to educate them how to stop munching on chips and start eating more apples).
Having a thorough, robust Website Disclaimer gives you:
Courage – especially when you are just starting out or launching a new site and you feel totally exposed.
Clarity – by letting people know where your liability ends and where theirs begins – and understanding exactly what you DO (and DON'T DO) as a health coach.
Safety – so you can feel and be safe, secure and grounded, all of which are principles associated with the root chakra. (Did I mention that one of my core beliefs is that the law protects you in both practical AND spiritual ways?)

Get legally covered with a

DIY Website Disclaimer

so you can keep people from visiting your site, getting confused, and thinking you are at fault.
You can get a DIY Website Disclaimer designed for health coaches here. It's super-simple. Here's how it works: You just watch a video, listen to the audio guide, and personalize the Website Disclaimer, and get it up on your site – in less than 1 hour – with ease and grace.
2. Client Agreement
The 2nd key document you need as a health coach is a Client Agreement.
If you are just starting out and you're using your school's sample health coaching program to get your business rolling, you can use the standardized agreement your school gave you that goes with that program.
But, once you stop using your school's program and you create your OWN unique 1:1 coaching programs, you'll need a customized Client Agreement to protect your income and the unique aspects of YOUR health coaching programs.
A Client Agreement helps your clients:
Get better results knowing exactly what you expect of them
Know what to do if they have to reschedule or cancel a call
Feel clear because your policies are in writing
Relax because your program details are all in one place.
A Client Agreement assures that you and your client are on the same page right from the start which creates a better working relationship – and sets the stage for your client to stop their emotional eating and get bikini-ready for the summer sun.
Client Agreements are actually GIFTS to your clients. #legallove
Not only that, but a Client Agreement helps YOU:
Limit your liability because it contains disclaimers & limitations
Protect your income, money and energy with key legal language
Avoid missed payments so no more chasing down money
Have a written refund policy that's super clear
Eliminate headaches and awkwardness about missed calls or sessions
Attract stronger clients by creating clearer energetic boundaries.
Get legally covered with a

DIY Client Agreement

so you can put your client policies in writing, secure your income and avoid awkward conversations about missed calls or payments later.
You can get your DIY Client Agreement here. All you do is watch a video, listen to the audio guide, and personalize the Client Agreement for YOUR specific programs (the audio guide walks you right through it!) You can get it done in less than time than it takes to watch Super Soul Sunday.
When you get legally covered, you can feel safe and secure as a health coach so you can sit back, sip your green tea & just RELAX!
Here's to getting these 2 key legal docs in place to protect yourself, your biz and your brand!